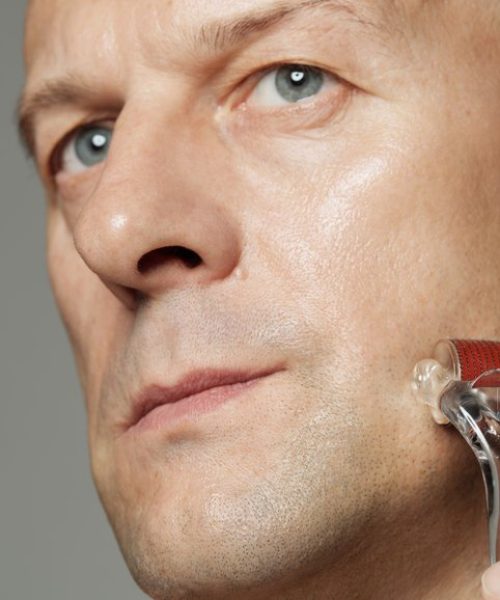 What is Microneedling?
The use of very fine needles (1.5–3.0mm long) to puncture the skin (epidermis and dermis)
and create a controlled injury with minimal epidermal injury. This stimulates the skin's own
repair mechanisms to increase collagen production (also known as 'percutaneous collagen
induction'), and can take many months (up to 12!) to show effects after treatment. The
needles can also break down scar tissue or be used to create microchannels in the skin
barrier ('stratum corneum') to get ingredients to the deeper epidermis and dermis [1].

But just because microneedling is an accessible and relatively inexpensive treatment, with
minimal downtime, doesn't mean everyone should do it. 
Our founder, Dr Michele Squire, explores the science of microneedling, and what it is useful (and not so useful!) for.
What IS Microneedling  an Effective Treatment For?
Unfortunately not as many skin conditions as most people think. There is good quality evidence that microneedling can [2,3]:
Help improve a

trophic a

cne scarring and other scars

(burns/surgical)

Assist with skin rejuvenation

(

wrinkles/

enlarged pores/uneven skin tone/sun damage

)

Improve the appearance of stretch marks
How Many Treatments Will I Need to Get Results?
This is controversial as each scientific study has its own protocol, and maximum results can take a VERY long time to show full results, often outside the study timeline. So don't get tempted to buy 6 months of treatment – do one full treatment round and wait to see if the results are
what you hoped before committing to another – each individual treatment may be relatively inexpensive, but the cost will add up over multiple treatment rounds. 

Typically, a treatment round will consist of repetitive sessions, spaced at regular intervals (e.g. 4 sessions, 1 month apart, with 3mm needles), although four sessions of weekly, 1mm
needling showed similar results to 3mm needles in one study [4].
There's NO evidence that microneedling is an effective treatment for Melasma – even when used to deliver drugs or ingredients like vitamin C or tranexamic acid [5]. A triple combination of topical tretinoin + hydroquinone + hydrocortisone (like our Melasma Cream) is more effective than microneedling [6].
There's also NO Evidence that these Microneedling Devices do Anything:
LED microneedling devices

(

no studies available at all)

Home care dermarollers with a 

needle length

of only

0.1

–

0.2mm

(

no studies at all)
When NOT to microneedle:
If you're using topical prescription medications. Tretinoin also induces collagen production, so be patient and see what results you get from that alone before exploring needling treatments. Your skin may also behave unexpectedly, and a light microneedling session could cause very serious irritation. If you're a Qr8 MediSkin patient – ask us for advice before you needle!
Definitely don't microneedle if you have any of these:
Rosacea

 

Broken blood vessels (telangiectasia)

 

Perioral Dermatitis

 

Eczema/lupus/psoriasis

 

Active cold sores

 

Active inflammatory acne

 

Recent sun exposure/sunburn

 

History of keloid scars

 

Recently undergone (or undergoing) radio/chemotherapy/anticoagulant therapy

 
Microneedling in Skin of Colour 
Although microneedling is minimally invasive and preserves the epidermis (meaning less likelihood of hyperpigmentation), the number of studies investigating microneedling in skin of colour are few, and limited to very small numbers of test subjects. So ensure your provider is very (VERY) experienced, preferably with skin of colour [7].
Houshmand EB. 2021. Introduction to Microneedling. In: Microneedling: Global




Perspectives in Aesthetic Medicine

.

John Wiley & Sons

, NJ.

Shuklam SK, Gold MH

. 2021.

Treatment of Acne and Acne Scars

. In: Microneedling:




Global Perspectives in Aesthetic Medicine

.

John Wiley & Sons

, NJ

.

Hou A, Cohen B, Haimovic A, Elbuluk N. 2017. Microneedl

ing: A Comprehensive Review.

Dermatol Surg

. PMID: 27755171

.

Zeitter S, Sikora Z,

et al

. 2014.  Microneedling: matching the results of medical needling and




repetitive treatments to maximize potential for skin regeneration. Burns. PMID:




24513133.

Wu SZ,

Muddasani S, Alam M. 2020. A Systematic Review of the Efficacy and Safety of




Microneedling in the Treatment of Melasma. Dermatol Surg. PMID: 32897944

.

Liu Y, Wu S,

et al

. 2021. Comparison of the Efficacy of Melasma Treatments: A Network Meta

–




Analysis of Randomi

zed Controlled Trials. Front Med (Lausanne)

.

PMID: 34660626

.

Cohen BE, Elbuluk N. 2016. Microneedling in skin of color: A review of uses and efficacy. J Am




Acad Dermatol. PMID: 26549251

.
WOULD YOU LIKE TO CHAT TO ONE OF OUR FRIENDLY  DOCTORS ABOUT YOUR SKIN?
CLICK HERE TO BOOK A CONSULT WITH OUR EXPERIENCED MEDICAL TEAM.