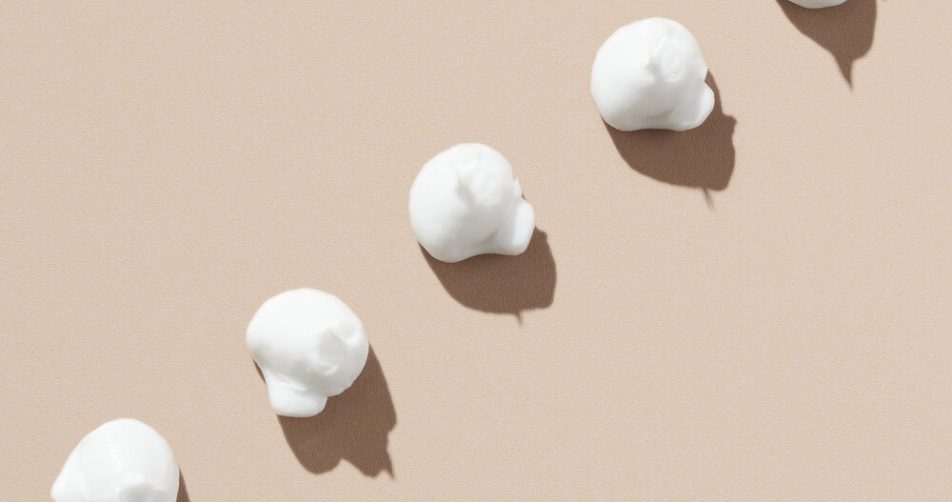 Here's what science says about how long it takes for wrinkle (and other signs of photoageing) improvement with daily prescription retinoid use
1 WEEK-3 MONTHS⁠ – EARLY CHANGES⁠
It's possible to notice a difference this early. The skin cells within the skin barrier become compacted and epidermal water retention increases, resulting in overall smoother texture (if retinoid dermatitis is well managed). What you don't see is the early changes to your skin cells' turnover mechanism – they are getting ready to send fresh skin cells to the surface more frequently [1].⁠

3-6 MONTHS⁠ – NOTICEABLE RESULTS⁠
An overwhelming number of studies show that 0.05% of a prescription retinoid applied daily produces significant reductions in signs of photoageing like fine wrinkles, hyperpigmentation, and roughness when compared to a cream that doesn't contain a prescription retinoid [2 – a great summary].⁠
These results are after *daily* use – which is why we help you manage side effects to get you to an effective dose as quickly and safely as possible. In reality, if you're a retinoid novice you will likely notice results closer to 6 months than 3.⁠

6-12 MONTHS⁠ – DRAMATIC RESULTS⁠
Again, a vast array of studies show continued improvement in fine and coarse wrinkles, skin laxity and roughness at the 6+ month point, even when starting dose is low (0.025%) and increases (to 0.1%) during this time period [2,3]. Daily use and the maximum tolerable dose is key to getting maximum results [4]. This doesn't mean that you need the highest dose if your skin doesn't tolerate it – studies show significant improvement over 12 months, even with daily application of a low dose of a prescription retinoid (0.01% or 0.02%) [5,6].⁠
⁠Pigment reduction (age spots, PIH, freckles, melasma) become significant during this period, by the 10 month mark [7].⁠

2-4 YEARS⁠ – SUSTAINED RESULTS & SAFETY⁠
⁠A 2 year study of daily 0.05% prescription retinoid use showed continued improvements in signs of photoageing, without untoward effects [8]. A 4 year study showed continued clinical improvement and sustained results, again with no untoward effects on skin, the health of test subjects, or microscopically on skin cells or melanocytes [9].
IF YOU WOULD LIKE TO DISCUSS IF A PRESCRIPTION RETINOID TREATMENT IS RIGHT FOR YOU, CLICK HERE TO BOOK A COMPLIMENTARY CONSULT WITH OUR EXPERIENCED MEDICAL TEAM.
1. Rosenthal DS, Roop DR, Huff CA, Weiss JS, Ellis CN, Hamilton T, Voorhees JJ, Yuspa SH. Changes in photo-aged human skin following topical application of all-trans retinoic acid. J Invest Dermatol. 1990 Nov;95(5):510-5. doi: 10.1111/1523-1747.ep12504718. PMID: 1700022.
2. Mukherjee S, Date A, Patravale V, Korting HC, Roeder A, Weindl G. Retinoids in the treatment of skin aging: an overview of clinical efficacy and safety. Clin Interv Aging. 2006;1(4):327-48. doi: 10.2147/ciia.2006.1.4.327. PMID: 18046911; PMCID: PMC2699641.
3. Caputo R, Monti M, Motta S, Barbareschi M, Tosti A, Serri R, Rigoni C. The treatment of visible signs of senescence: the Italian experience. Br J Dermatol. 1990 Apr;122 Suppl 35:97-103. doi: 10.1111/j.1365-2133.1990.tb16133.x. PMID: 2186793.
4. Weinstein GD, Nigra TP, Pochi PE, Savin RC, Allan A, Benik K, Jeffes E, Lufrano L, Thorne EG. Topical tretinoin for treatment of photodamaged skin. A multicenter study. Arch Dermatol. 1991 May;127(5):659-65. PMID: 2024983.
5. Olsen EA, Katz HI, Levine N, Nigra TP, Pochi PE, Savin RC, Shupack J, Weinstein GD, Lufrano L, Perry BH. Tretinoin emollient cream for photodamaged skin: results of 48-week, multicenter, double-blind studies. J Am Acad Dermatol. 1997 Aug;37(2 Pt 1):217-26. doi: 10.1016/s0190-9622(97)80128-4. PMID: 9270507.
6. Nyirady J, Bergfeld W, Ellis C, Levine N, Savin R, Shavin J, Voorhees JJ, Weiss J, Grossman R. Tretinoin cream 0.02% for the treatment of photodamaged facial skin: a review of 2 double-blind clinical studies. Cutis. 2001 Aug;68(2):135-42. PMID: 11534915.
7. Rafal ES, Griffiths CE, Ditre CM, Finkel LJ, Hamilton TA, Ellis CN, Voorhees JJ. Topical tretinoin (retinoic acid) treatment for liver spots associated with photodamage. N Engl J Med. 1992 Feb 6;326(6):368-74. doi: 10.1056/NEJM199202063260603. PMID: 1729619.
8. Kang S, Bergfeld W, Gottlieb AB, Hickman J, Humeniuk J, Kempers S, Lebwohl M, Lowe N, McMichael A, Milbauer J, Phillips T, Powers J, Rodriguez D, Savin R, Shavin J, Sherer D, Silvis N, Weinstein R, Weiss J, Hammerberg C, Fisher GJ, Nighland M, Grossman R, Nyirady J. Long-term efficacy and safety of tretinoin emollient cream 0.05% in the treatment of photodamaged facial skin: a two-year, randomized, placebo-controlled trial. Am J Clin Dermatol. 2005;6(4):245-53. doi: 10.2165/00128071-200506040-00005. PMID: 16060712.
9. Bhawan J, Olsen E, Lufrano L, Thorne EG, Schwab B, Gilchrest BA. Histologic evaluation of the long term effects of tretinoin on photodamaged skin. J Dermatol Sci. 1996 Mar;11(3):177-82. doi: 10.1016/0923-1811(95)00432-7. PMID: 8785167.