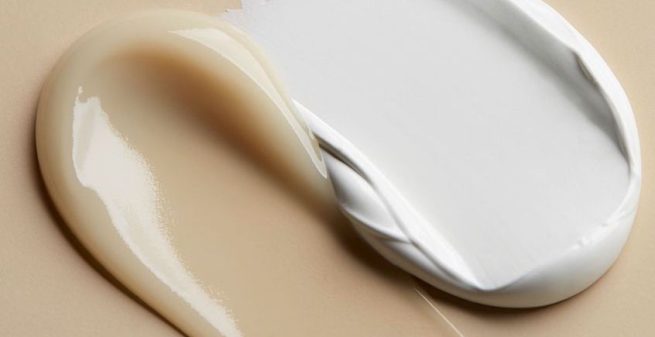 Before we start … some fundamental sunscreen science.
Formulating a sunscreen, and getting it approved by the Therapeutic Goods Association (TGA) so you can sell it in Australia, is hard work (like, REALLY hard work). In addition to all the normal product formulation complexities, you also need to choose an amount, type and combination of UV filters that will be most stable in sunlight, provide the best UVA/B protection, and work together without inactivating each other. Then you have to ensure UV filters can spread across the skin and coat it in an even layer ensuring the skin surface is protected. This is made more challenging by the fact that skin isn't a uniform surface – it has lots of little nooks, crannies, and microscopic peaks and valleys. You have to do all this AND ensure it feels great on the skin so people will actually use it, and provide it at a price point that people will use enough of it (more about why were not fans of super expensive sunscreens HERE).
So sunscreen requires really clever formulation science, and all our sunscreen formulating friends tell us that it needs lots (lots!) of testing to get it right and meet the TGA's stringent standards.
This diagram shows why UV filters need to disperse uniformly over the skin to allow the maximum amount of UV to be absorbed (remember that mineral and chemical sunscreens both mostly absorb UV radiation):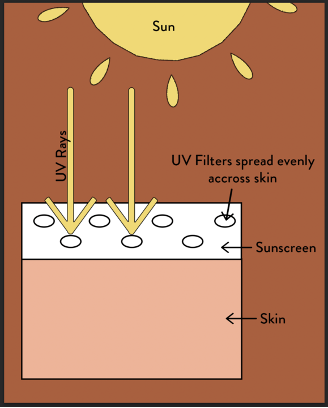 So what happens if you mix foundation (or concealer, glow drops, tan drops, luminiser, another sunscreen etc) into your sunscreen?
It sounds like a great idea – customizing your own level of coverage and glow, with added sunscreen benefits! Not to mention fewer layers, less time, and no white cast if you have a deeper skin tone. Right? Wrong!
Here's why…
Firstly, the obvious thing: you're diluting your sunscreen. And given that multiple studies show that people use way less sunscreen than they should be, diluting your SPF even more means you're not getting nearly the sun protection you think you are!
Then, you run a very big risk that all the clever science that went into your sunscreen will go down the drain. Why? There's two reasons:
Your mixology skills might be a little off, and you don't mix the products evenly leading to skip spots and hot spots with your coverage.
At a microscopic level, mixing things into your sunscreen can cause the UV filters to interact in strange ways, and agglomerate (clump together) leaving you with a patchy covering of protection. And the worst part is that you won't even know it because it's happening at the microscopic level.
This diagram shows how this affects your UV protection: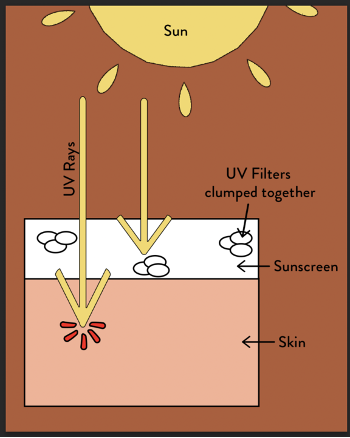 The reverse is also true if you use a few drops of sunscreen mixed into your moisturizer or foundation. And it's also why we're not fans of spray sunscreens – unless you apply enough of them and rub them in (which defeats the purpose as they are marketed to re-apply sunscreen over makeup), there's a chance you will also have hole-y pro­­­tection.
On a related note, applying your sunscreen over (or under) oily products has the same outcome as mixing thigs into your sunscreen. Your sunscreen can't dry down to form an even layer when it's constantly moving around on a bed of oil. It will also likely be removed the second you touch your face, get dressed or take your sunnies off. We recommend leaving your oil or moisturizer to dry down onto the skin first (the science recommends waiting 8 minutes before applying more products – although this study was performed using clothing, rather than skincare products, and this time will differ depending on what formulation your sunscreen is).
There are a few exceptions to the mixing rule!
Some companies have done the detailed testing and can demonstrate that some of their products can be mixed and still provide proper protection. If you're a Qr8 patient, Nurse Kristen can advise you when this is the case.
Our experienced dermatology nurse works with all Qr8 patients to create a simple, inexpensive and personalised skincare routine to support your treatment! This includes choosing the right sunscreen for your skin condition. To read more about evidence-based skincare CLICK HERE.
Tanner PR. Sunscreen product formulation. Dermatol Clin. 2006 Jan;24(1):53-62. doi: 10.1016/j.det.2005.09.002. PMID: 16311167.
Department of Health & Aged Care (August 2022) Sunscreen regulation in Australia, Australia. Available at: https://www.tga.gov.au/resources/resource/guidance/sunscreen-regulation-australia [Accessed 3 October 2023]. 
Burnett ME, Hu JY, Wang SQ. Sunscreens: obtaining adequate photoprotection. Dermatol Ther. 2012 May-Jun;25(3):244-51. doi: 10.1111/j.1529-8019.2012.01503.x. PMID: 22913442.
Autier P, Boniol M, Doré JF. Sunscreen use and increased duration of intentional sun exposure: still a burning issue. Int J Cancer. 2007 Jul 1;121(1):1-5. doi: 10.1002/ijc.22745. PMID: 17415716.
Diaz A, Neale RE, Kimlin MG, Jones L, Janda M. The children and sunscreen study: a crossover trial investigating children's sunscreen application thickness and the influence of age and dispenser type. Arch Dermatol. 2012 May;148(5):606-12. doi: 10.1001/archdermatol.2011.2586. PMID: 22250190.
Petersen B, Wulf HC. Application of sunscreen–theory and reality. Photodermatol Photoimmunol Photomed. 2014 Apr-Jun;30(2-3):96-101. doi: 10.1111/phpp.12099. Epub 2014 Jan 6. PMID: 24313722.
Beyer DM, Faurschou A, Haedersdal M, Wulf HC. Clothing reduces the sun protection factor of sunscreens. Br J Dermatol. 2010 Feb 1;162(2):415-9. doi: 10.1111/j.1365-2133.2009.09478.x. Epub 2009 Aug 29. PMID: 19845666.
WOULD YOU LIKE TO CHAT TO ONE OF OUR FRIENDLY DOCTORS ABOUT YOUR SKIN CONDITION?
CLICK HERE TO BOOK A CONSULT WITH OUR EXPERIENCED MEDICAL TEAM.