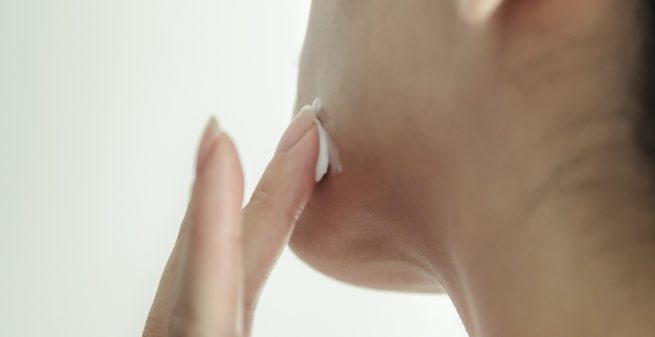 Topical steroids perform an important role in treating pigmentation (and many other inflammatory skin disorders) but they suffer from bad PR.
'Steroid Phobia' is very common. Up to 96% of participants in one study said they were afraid of using a topical steroid, with a mean of around half of all patients across multiple studies on this topic [1]). Scary-sounding terms like 'topical steroid withdrawal' and 'topical steroid addiction' regularly do the rounds on social media. These fears are often unfounded, but make people avoid using an ingredient that can benefit their skin, and can even lead to their topical treatment failing, and the need to consider systemic options [2].
At Qr8, we know that people have concerns about using steroids in their fading treatment but our doctors don't just dismiss their patients' concerns out of hand – we break down the science for you so you can make informed decisions. So this article addresses steroid phobia head on!
1. Why is a steroid included in our gold standard fading treatment?
There are 2 reasons why a very mild topical corticosteroid called Hydrocortisone (to use the correct terminology) is included in fading treatments:
(a) The anti-inflammatory action of topical steroids helps damp down irritation that can occur with prescription creams⁠ (this is really important, as inflammation can drive more pigment production – read more about that HERE).
(b) Steroids can also slow down melanocyte activity, so have a mild depigmenting function all of their own! [3, 4]⁠
2. Let's debunk the major reasons for steroid phobia
Not understanding the different types of steroids
Not all steroids are created equal!
There are multiple different classes of steroids, from super potent to low potency. These are outlined in the table below [5]. The reported side effects of topical steroids are directly related to their potency [6].
You'll notice that the Qr8 fading creams contain 1% hydrocortisone, a low dose of the mildest class of steroid.⁠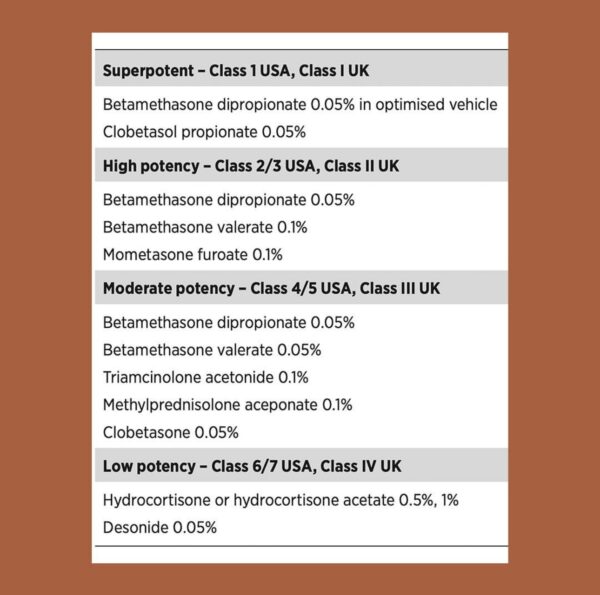 'Steroids thin the skin'
Skin atrophy (thin, shiny, skin that bruises easily) is the biggest reported concern from Qr8 patients around topical steroid use. This typically happens with prolonged use of super/highly potent steroids, not at low concentrations of low potency steroids used for a limited time under medical supervision [6].⁠
The addition of tretinoin in a fading treatment has also been shown to negate the atrophic effects of topical steroids by thickening the dermis [7-9]⁠.⁠
'Steroids have scary side effects'
Studies report that people worry about an enormous variety of negative side effects from topical steroids. These include: weight gain, asthma, skin thinning, growth stunting, skin aging, stretch marks, skin irritation, acne, broken capillaries, systemic effects, eye complications such as cataracts, resistance, impairment of the immune system, and even the general concern about unknown long-term side effects. But the same studies show that these side effects happen rarely, and are reported to doctors even less. They usually occur with long term, unsupervised use of topical steroids, or regular use of systemic steroids [1].
Our skin barrier does a stellar job at keeping topical ingredients (even drugs!) from entering the bloodstream. Only a tiny amount of topically applied hydrocortisone is actually absorbed past the skin barrier, which is all you need for it to have a positive effect. To get technical, less than 2% of topically applied hydrocortisone is absorbed into the systemic circulation after single stay on application of more than 1 day [10].
'The instructions about how to use my steroid aren't clear'
Applying your cream 'sparingly' doesn't mean much. Likewise, use a 'pea-size amount' or '1 or 2 pumps, enough to cover your face' is open to interpretation. Patients are generally afraid that they are using too much, so err on the side of not using their treatment properly (or at all!) [11-13]. It's why our Qr8 instructions are so detailed, and our treatments are dispensed in medical-grade packaging with a calibrated doing mechanism. And if you need more help, our nurse is available to chat with on our text support line any time during QLD business hours!
'If you use a topical steroid, you'll end up with perioral dermatitis (PD)'
We see and hear this a lot on social media (in fact some companies use this to sell you their skincare products!), so here's the facts from our own point prevalence studies*: For every 1000 patients we treat, there are less than 5 at any one time with perioral dermatitis. This is half the reported 1% prevalence of PD in the general community. So our intensive support for your skin barrier during treatment, and careful prescribing and monitoring practices, mean that you're less likely to get PD at Qr8, even when using a topical steroid in your formulation.
*A point prevalence study is a fancy epidemiology term for a snapshot study, conducted at various points in time. We check our PD rates each season/quarter, and include patients on all types of topical treatments, but exclude those who have a primary diagnosis of PD (i.e. have come to Qr8 seeking help for their PD, not another skin condition).
3. Where does all this misinformation come from?
We all love and trust our nearest and dearest, but unfortunately studies show that it's negative comments from friends, family and non-medical personnel that are the most common sources of misinformation about topical steroids leading to steroid phobia [14, 15]. Other studies point to the internet, social and other media as the source [11, 16, 17]. Our experience at Qr8 is that Facebook chat groups are a leading source of misinformation about these ingredients for our patients.
And finally…
Remember that as a Qr8 patient you will chat every 3 months with one of our doctors in a video consultation, where you will have the opportunity to raise any concerns (like your fears around steroids, or any other ingredient you are prescribed for that matter!) and get evidence-based answers from a medical professional who knows these ingredients thoroughly, has worked with them for long periods of time, and understands your personal medical and skin history. Likewise, our dermatology nurse is available to chat with by booking a video consultation with her (included as part of your treatment), or via text chat any time during QLD business hours.
Studies show that this kind of personalised advice, and an ability to raise your personal concerns and have them addressed individually, is more successful at overcoming misinformation than educational videos, standardized written information or a link to an online forum [16, 18]. Yet another reason why Qr8 is personalised just for you!
Our experienced dermatology nurse works with all Qr8 patients to create a simple, inexpensive and personalised skincare routine to support your treatment! Read more about how our fading treatments work HERE.
Contento M, Cline A, Russo M. Steroid Phobia: A Review of Prevalence, Risk Factors, and Interventions. Am J Clin Dermatol. 2021 Nov;22(6):837-851. doi: 10.1007/s40257-021-00623-6. Epub 2021 Jul 21. PMID: 34287768.
Tan SY, Chandran NS, Choi EC. Steroid Phobia: Is There a Basis? A Review of Topical Steroid Safety, Addiction and Withdrawal. Clin Drug Investig. 2021 Oct;41(10):835-842. doi: 10.1007/s40261-021-01072-z. Epub 2021 Aug 18. PMID: 34409577; PMCID: PMC8481181.

Lynde CB, Kraft JN, Lynde CW. Topical treatments for melasma and postinflammatory hyperpigmentation. Skin Therapy Lett. 2006 Nov;11(9):1-6. PMID: 17075653.

Rendon M, Berneburg M, Arellano I, Picardo M. Treatment of melasma. J Am Acad Dermatol. 2006 May;54(5 Suppl 2):S272-81. doi: 10.1016/j.jaad.2005.12.039. PMID: 16631968.
Aung T, Aung ST. Selection of an effective topical corticosteroid. Aust J Gen Pract. 2021 Sep;50(9):651-655. doi: 10.31128/AJGP-07-20-5507. PMID: 34462770.
Burns, T et al (Eds). 2010. Rook's Textbook of Dermatology. 8th Ed. Blackwell Publishing Ltd.
Kligman LH, Schwartz E, Lesnik RH, Mezick JA. Topical tretinoin prevents corticosteroid-induced atrophy without lessening the anti-inflammatory effect. Curr Probl Dermatol. 1993;21:79-88. doi: 10.1159/000422366. PMID: 8299380.
Bhawan J, Grimes P, Pandya AG, Keady M, Byers HR, Guevara IL, Colón LE, Johnson LA, Gottschalk R. A histological examination for skin atrophy after 6 months of treatment with fluocinolone acetonide 0.01%, hydroquinone 4%, and tretinoin 0.05% cream. Am J Dermatopathol. 2009 Dec;31(8):794-8. doi: 10.1097/DAD.0b013e3181a9070d. PMID: 19755910.
Ahmad Nasrollahi S, Sabet Nematzadeh M, Samadi A, Ayatollahi A, Yadangi S, Abels C, Firooz A. Evaluation of the safety and efficacy of a triple combination cream (hydroquinone, tretinoin, and fluocinolone) for treatment of melasma in Middle Eastern skin. Clin Cosmet Investig Dermatol. 2019 Jun 10;12:437-444. doi: 10.2147/CCID.S202285. PMID: 31354327; PMCID: PMC6580938.
De Souza A, Strober BE. 2008 Principles of topical therapy. In: Fitzpatrick's Dermatology in General Medicine. 6th ed. New York: Mc Graw-Hill.
Lee JY, Her Y, Kim CW, Kim SS. Topical Corticosteroid Phobia among Parents of Children with Atopic Eczema in Korea. Ann Dermatol. 2015 Oct;27(5):499-506. doi: 10.5021/ad.2015.27.5.499. Epub 2015 Oct 2. PMID: 26512163; PMCID: PMC4622883.
El Hachem M, Gesualdo F, Ricci G, Diociaiuti A, Giraldi L, Ametrano O, Occella C, Fortina AB, Milioto M, Arcangeli F, Simonetti O, Giancristoforo S, Calamelli E, Mazzatenta C, Neri I. Topical corticosteroid phobia in parents of pediatric patients with atopic dermatitis: a multicentre survey. Ital J Pediatr. 2017 Feb 28;43(1):22. doi: 10.1186/s13052-017-0330-7. PMID: 28245844; PMCID: PMC5330138.
Smith SD, Hong E, Fearns S, Blaszczynski A, Fischer G. Corticosteroid phobia and other confounders in the treatment of childhood atopic dermatitis explored using parent focus groups. Australas J Dermatol. 2010 Aug;51(3):168-74. doi: 10.1111/j.1440-0960.2010.00636.x. PMID: 20695854.
Hon KL, Tsang YC, Pong NH, Luk DC, Lee VW, Woo WM, Lam CY, Yeung YT, Chau YS, Chui KK, Li KH, Leung TF. Correlations among steroid fear, acceptability, usage frequency, quality of life and disease severity in childhood eczema. J Dermatolog Treat. 2015 Oct;26(5):418-25. doi: 10.3109/09546634.2015.1025030. Epub 2015 Apr 20. PMID: 25895012.
Müller SM, Tomaschett D, Euler S, Vogt DR, Herzog L, Itin P. Topical Corticosteroid Concerns in Dermatological Outpatients: A Cross-Sectional and Interventional Study. Dermatology. 2016;232(4):444-52. doi: 10.1159/000446068. Epub 2016 Jun 21. PMID: 27322385.
Smith SD, Farrugia LL, Harris V, Lee A, Carter SR, Blaszczynski A, Fischer G. Evaluation of the influence of family and friends, and the Internet on patient perceptions of long-term topical corticosteroid use. J Dermatolog Treat. 2017 Nov;28(7):642-646. doi: 10.1080/09546634.2017.1306017. Epub 2017 Apr 16. Erratum in: J Dermatolog Treat. 2017 Nov;28(7):x. PMID: 28349719.
Choi E, Tan KW, Tang F, Tan C, Chandran NS. Efficacy of targeted education in reducing topical steroid phobia: A randomized clinical trial. J Am Acad Dermatol. 2020 Dec;83(6):1681-1687. doi: 10.1016/j.jaad.2020.02.079. Epub 2020 Jul 9. PMID: 32171815.
WOULD YOU LIKE TO CHAT TO ONE OF OUR FRIENDLY DOCTORS ABOUT YOUR SKIN CONDITION?
CLICK HERE TO BOOK A CONSULT WITH OUR EXPERIENCED MEDICAL TEAM.